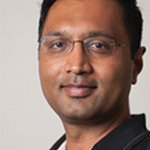 Founder @Tynker.
Creative Computing Platform.
Founder @Plusmo (AT&T 2009).
Founder at Covigo (Symbol 2003).
Srini is co-founder and CTO of Tynker, a new computing platform designed to help kids learn coding in a fun way.  Since 2012, more than 26 million kids and 30,000 schools have adopted Tynker to learn computer programming.
Srini has spent the last 20 years building world-class technology companies. Prior to Tynker, Srini was co-founder of Plusmo, acquired by AT&T and co-founder of Covigo, now a part of Motorola.  At AT&T Interactive, he served as Vice President for the Consumer division where he drove the creation and delivery of all consumer facing online sites and mobile apps for the Yellow Pages. He serves on the Board of Studypad - a math enrichment company, and advises several Internet and mobile startups.