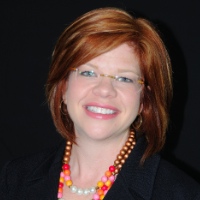 Emily Kirkpatrick is vice president of the National Center for Families Learning (NCFL). In her current role, she passionately leads new initiatives and signature efforts and shepherds the organization's continuous growth to address the learning needs of the 21st century family. She also establishes and develops NCFL's strategic and long-term partnerships with individuals, corporations and foundations.
Ms. Kirkpatrick is devoted to expanding NCFL's reach and impact. Notable recent achievements include the creation of Wonderopolis®, NCFL's learning website and app for teachers, parents and children that was recently named one of TIME magazine's best sites of 2011 and "Best Kids App" by Parenting magazine.
Ms. Kirkpatrick is frequently interviewed by national media and is a close collaborator with notable journalists, education and nonprofit thought leaders, and philanthropists. She holds a B.A. from Centre College and an M.B.A. from Bellarmine University. She is an advisor to the Fred Rogers Center and Sesame Street, and has chaired the nonprofit section of the Public Relations Society of America. She and her husband are the proud parents of three boys.